Using Genial.ly has always been simple, but we've just taken it one step further. Now, whether you're starting with a template or from scratch, we've made it possible to create entire sets of content in seconds. Smartblocks are here!
Imagine you want to prepare a meal yourself. You gather all the ingredients, prepare them, cook them, and finally, you arrange them on your plate. Now imagine you can choose a dish that's already been prepared and plated by a chef, and now you can add finishing touches to customize it to your taste. If cooking isn't your strong point, why invest so much time in it? Plus, you'll leave the kitchen a mess!
With Smartblocks, you'll have all the content prepared to use and alter as you like. All the assembly will be done by design professionals and ready for presenting.
Without Smartblocks
With Smartblocks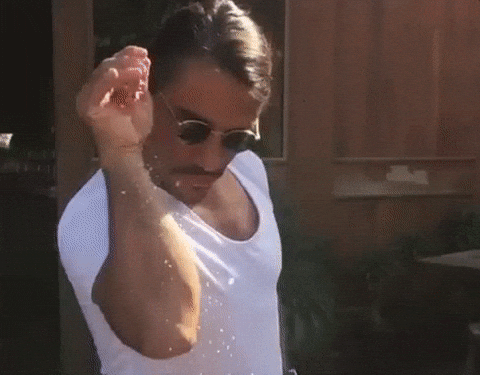 Keep reading, and don't miss out on the world of possibilities that Smartblocks offer you ⬇️
What are Smartblocks?
Smartblocks are predesigned, themed sets that will help you fill out your creations easily. How? By providing you with everything ready made; all you have to do is edit, adjust dimensions and you're all set.
Looking for resources in other templates? Smartblocks will allow you to easily select from their sets by category without leaving the Editor. Halfway between templates and conventional resources, these sets offer the advantages of both and make assembly of a genially easier and more accessible for those who don't have advanced knowledge in design or who are short on time.
Want to know which Smartblocks best fit your needs?
What kinds of Smartblocks can I use?
Smartblocks are versatile resources, and we're offering you a huge variety in this category so that you always have the perfect Smartblock available for your creation:
Who wouldn't like to put together a collage in a matter of seconds? With Smartblocks, now it's possible. Forget about assembly and focus on choosing your best photos. All you have to do is replace the images. Simple, right?
Full size Smartblocks owe their name to their compatibility with larger creations like vertical infographics. Want to guess why? The answer is simple. These sets easily and comfortably fit (and substitute) into an infographic scale and format. Choose a block, adjust it to your canvas and you're done assembling. With Smartblocks, you'll have an infographic put together in seconds.
Box sets are simple and versatile sets you can include as complementary elements or as the foundation for a full page to add a special something to your geniallys. They include a variety of elements like text, images and pins; you'll recognize many of them because they're pages from other templates. You don't need to leave your creation to search for other geniallys. Just choose the style you like most, adjust its dimensions and you're ready to go. Stunning results in just a few minutes!
Would you like to be able to choose a collage with profiles of your whole team with one quick click? Want to strengthen your personal branding? If you do, these Smartblocks are for you. Enter your information and select the design that best fits your profile. Quick, simple and above all, professional.
Smartblocks of lists and processes are sure to be among your favorites, especially for those of you who interact with the world of web design. With these, you'll be able to assemble lists and processes in a way that is detailed and precise. You'll be able to edit each element, including interactivity and multimedia elements so that everything is explained perfectly.
Thanks to Smartblocks, now you can select and include maps without leaving the Editor. You have a huge variety available to you: those you were already using and many more. You'll have your map, complete with interactivity, animation and pins of all types and colors. Customize it, add your information and you'll have a map that fits your creation in a flash.
Why adjust lines, icons and dimensions if you can save time dragging in a single element and adjusting it all at once? Timeline Smartblocks allow you to include timelines with Genial.ly styling in a second. Choose the one that best fits the process you want to illustrate, adjust the size of everything at once and add your information. It's that easy to combine and experiment. Your time is in your hands.
We know that creating diagrams and graphics from scratch can be a bit tedious. That's why with Smartblocks, we offer you all the diagrams we know you use most so that you can add them more easily and comfortably. You have tons of options, percentages, one, two, three, or four variables, different colors, shapes and styles. Explain your information efficiently without getting lost in the assembly process. That's what we're here for.
Tables with Genial.ly? Yes! Tables and graphs to show off your data. Many are animated, and all are sure to stun. Just add your numbers and info and adjust the dimensiones. Data is easier for audiences to absorb when it is supported by visuals. The possibilities are endless: simple, complex, full-page or as an add-in. Like all of our Smartblocks, they adapt to your needs.
Finally, you'll have a series of sets especially chosen as vehicles for multimedia elements like gifs or videos. Replace the content and forget about adjusting it or worrying about its style. Everything is ready for you to simply change the link out for your favorite YouTube video, silly Gif or useful tutorial.
5 Reasons Smartblocks Will Win Your Heart
As you can see, Smartblocks give Genial.ly incredible added value. We know how useful they can be and how much value they offer our users, and so we want them to reach everyone. In case you're still not sure why you should try them out, here are 5 reasons Smartblocks will become your favorite resource:
All the work is done
Forget about assembling, adjusting and losing sleep over small design details. If you do, let it be because you love it. Otherwise, let us cut the work out for you.
A midpoint between templates and conventional resources
Complex like templates but with a format that allows you to pick apart and change aspects of them like with individual, conventional resources. Select, adjust and you're all set.
A click away
Select and drag your Smartblock to the canvas. You'll be surprised by how simple and comfortable they are to use.
Professional results
Our design team will take care of making sure your sets shine like truly professional designs. Customize and add your information, leaving the rest to us.
Resources for Genially made with Genially
Now you won't need to go to other geniallys to get your resources. Smartblocks allow you to maintain the Genial.ly style without leaving the Editor.
Now what?
Now it's your turn. Put your ideas into practice and leave tedious work behind. That's what we're here for. Select, adjust and complete your creations with Smartblocks. Don't lose time assembling geniallys if design isn't your thing, and make your content shine.
As always, don't hesitate to contact us if you have any questions. Leave us your comments and remember:
"You don't need to be a genius to do brilliant things".
Smartblocks are a great example of this
Greetings from the Genial.ly Team.
Happy September, everyone!